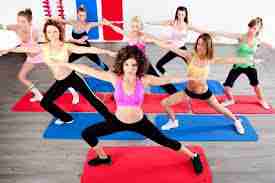 Aerobics
Aerobic fitness (also known as cardiovascular endurance) refers to your body's ability to efficiently and effectively intake oxygen and deliver it to your body's tissues by way of the heart, lungs, arteries, vessels, and veins.
Cardio is any activity that gets your heart rate pumping and your pulse rate increasing, oxygenating your blood. All of this increases your stamina, which is great for your heart health and overall wellness. In fact, aerobic exercise should be the foundation of every fitness regimen.
Some examples of aerobic fitness include running, speed walking, stair climbing, cycling, swimming, jumping rope, stair climbing, and high-intensity interval training.
In order to be effective, aerobic exercise should be performed four times a week for 30 minutes or more at a training heart rate of 50-90%. People who are just beginning may need to start at 5minutes and then gradually add time on until they reach 30 minutes or more.